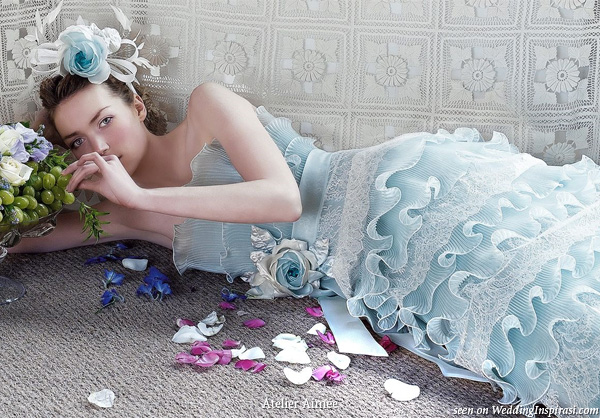 The dresses from Atelier Aimée have been seen on the pages and covers of magazines for the past two decades befitting the bridal house status as one of the leading companies in Italy for the production of wedding gowns.
"Atelier Aimée Monteapoleone brings a touch of glamour in the bridal world, both in the shapes, that constantly modify according to Haute Couture." These next few dresses are from the photo shoot themed "In the Garden of Dreams".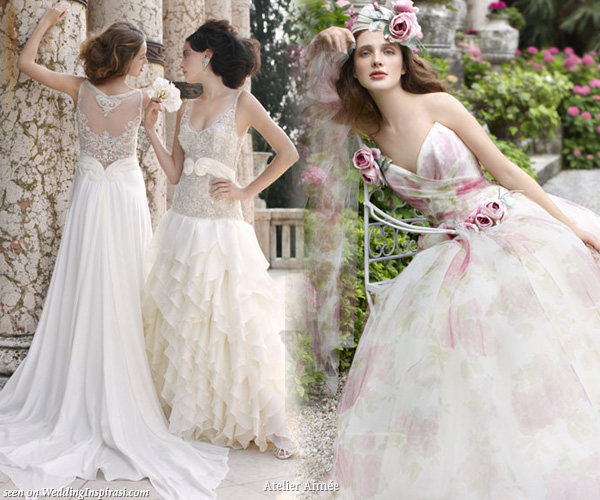 Lucia Zanotti, Aimée's creative artistic director had, in the 90s, a hand in creating a number of exclusive bridal gown collections for Gianni Versace. Other collaborations included Gucci in 2008 and Dolce & Gabbana in 2009. The house presents three distinct collection: Atelier Aimée Monteapoleone, Emé di Emé le spose, Prêt à Porter di Atelier Aimée Montenapoleone. Love the short tulle skirt and flower shoes!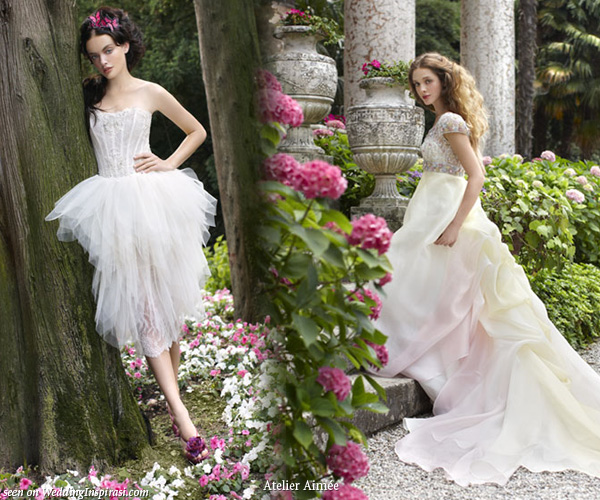 The secret garden is always open now. Open, and awake, and alive. If you look the right way, you can see that the whole world is a garden.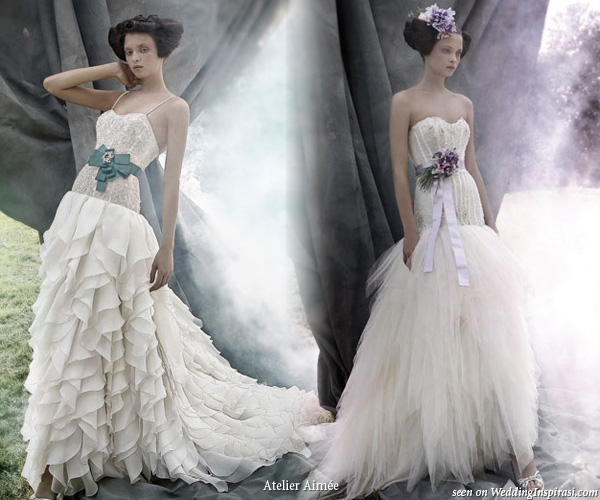 This is from the theme "In the Museum of Love". Adore the softly piled purple and white layers.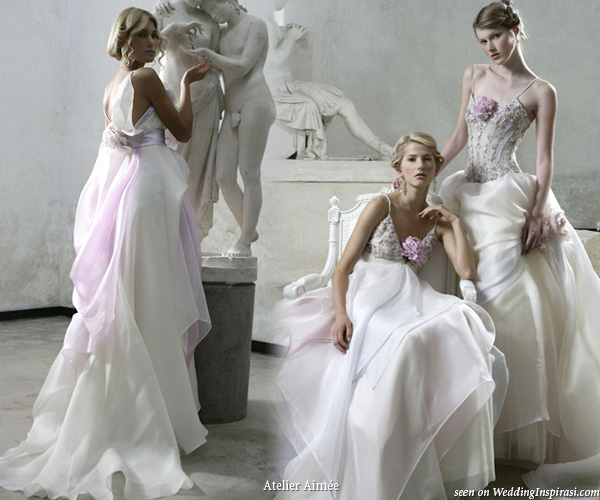 Some dresses from the 25th Anniversary book.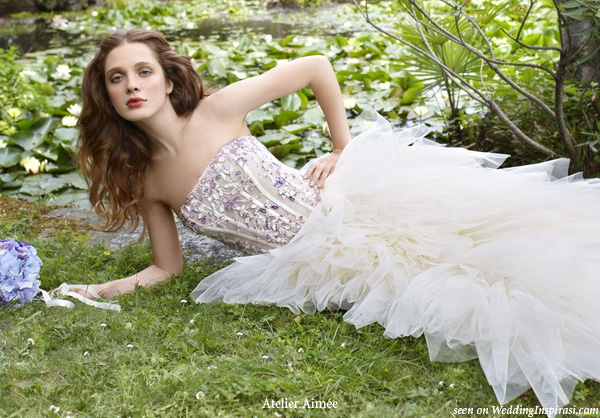 Antique lace and dusty corals. The pompous ruffle skirt, I'm attracted to it.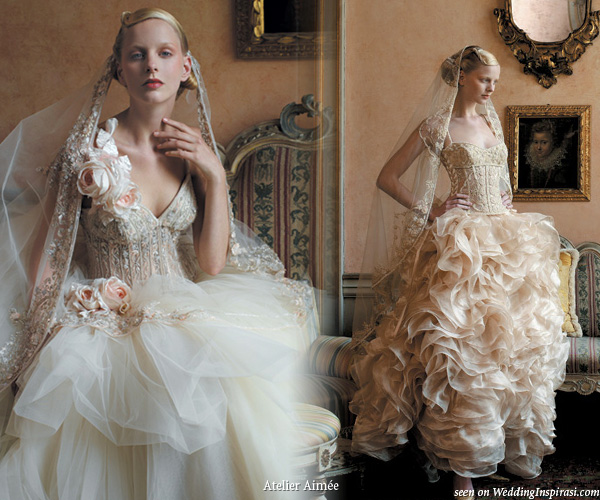 Cheery color. Hey, everyone at the party turned up wearing similar yellow dresses and hats! :)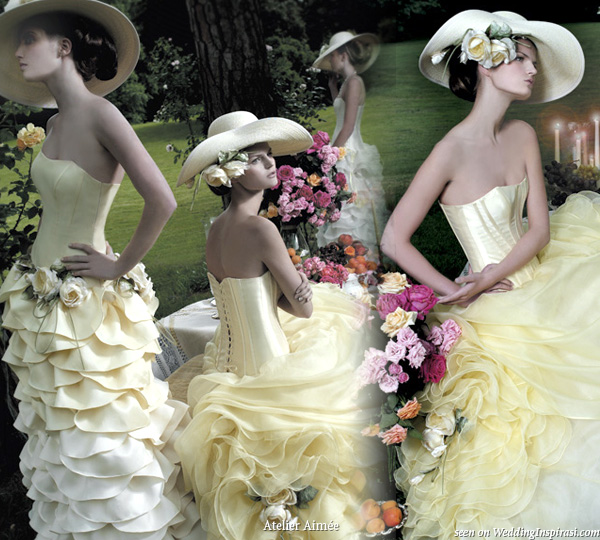 "Bouquets of red, pink, azure, lilac and yellow hand-painted silk roses sweeten the drapings in shaded organza, Mikado, duchess satin or taffeta skirts and on French laces: chantilly, valenciennes, macramé… hand-embroidereies are what make Atelier Aimeé Montenapoleone gowns exclusive and recognizable on covers of bridal magazines and in boutiques all over the world."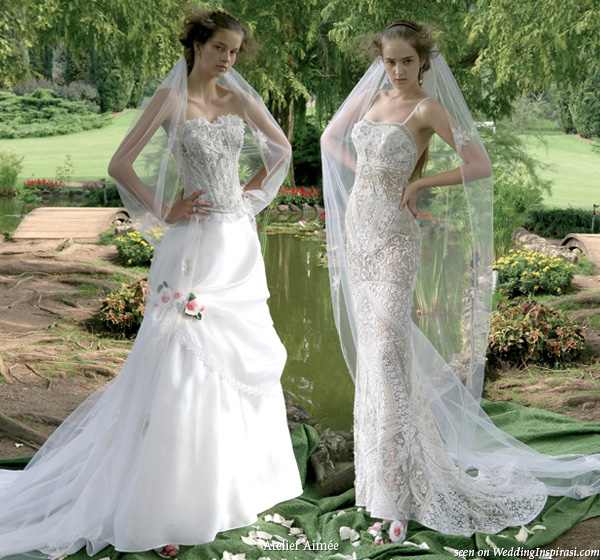 This is a pretty dress for a garden tea party, and – I want that green shell chair!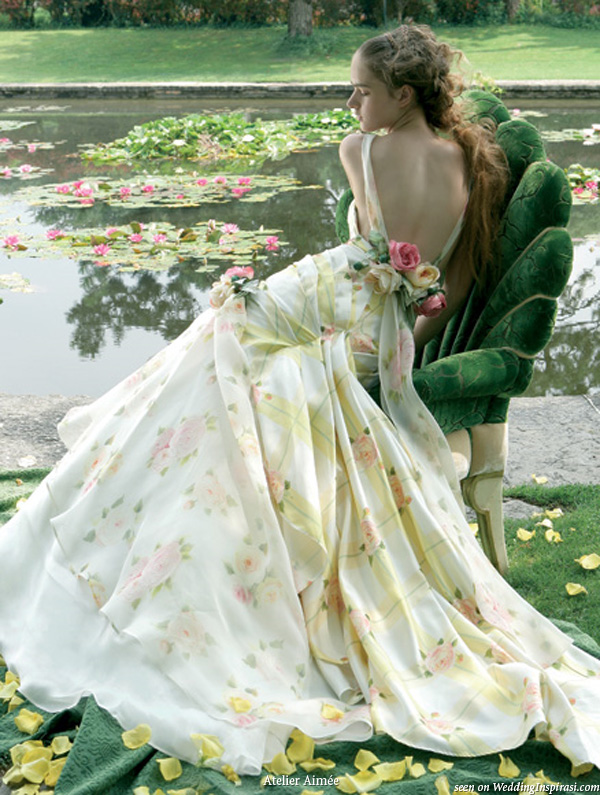 "Emé di Emé is the collection created for a young, romantic and dreamy bride, who loves full skirts and vaporous volumes." Here are some dresses from the Anniversary look book.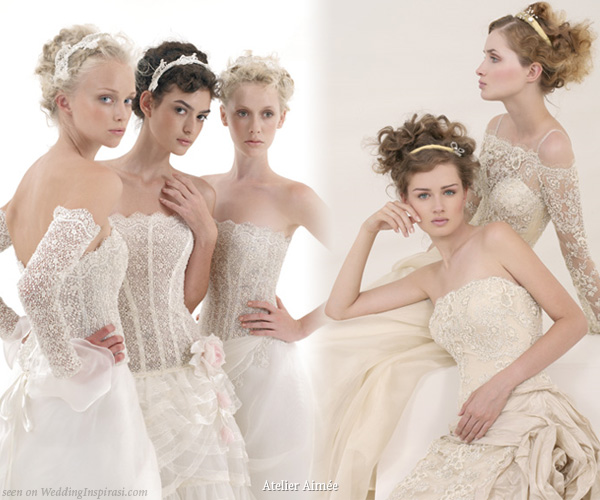 Pretty dresses for young maidens. Right bride giving the evil eye to the one on the far left for some reason.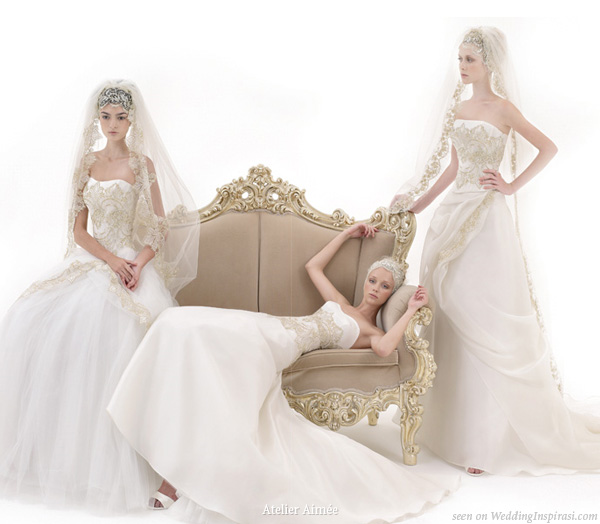 The hijab-friendly modest gown on the left is a tribute to Grace Kelly's wedding dress.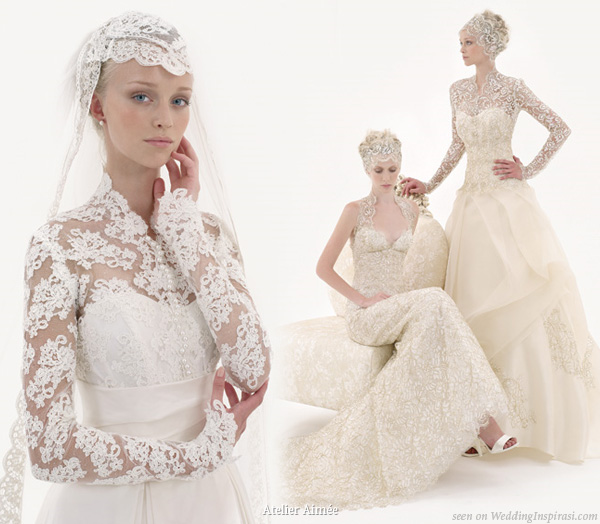 The Prêt-à-Porter, is a line "dedicated to a sophisticated and minimal bride, that won't give up her refined and absolutely chic and elegant style, even on her wedding day." You can check out this line and more pictures at their
website
.